PURA WATER TREATMENT SYSTEMS
PURA® is the most technologically advanced Ultraviolet Water Treatment System available anywhere in the world. It has been designed with you, the consumer, in mind. PURA® products are lightweight, easy to use and simple to maintain. PURA® products will provide you with clean, disinfected drinking water for years to come.
All PURA® products feature:
Water disinfection greater than 99.9% kill rate
Easy to change lamp and filters

Lamp and ballast matched for quality assurance.
Simple installation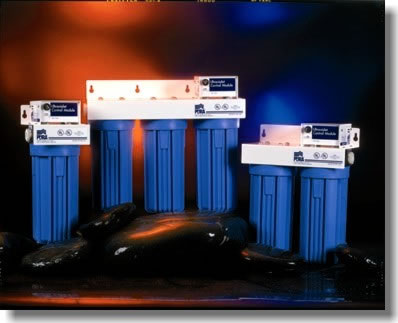 We offer a installation service and maintenance service in Luanda, Angola. Please contact us for further assistance with your requirements.
UV1-EPCB Series™
The PURA UV1-EPCB Series™ is a bright example of PURA's patented All-In-One concept. This product combines both ultraviolet disinfection with carbon filtration all in a very attractive and compact system. The UV-1 series is rated for 1 gallon per minute and uses either a cyst rated 0.5 micron (EPCB) carbon block filter or a 10 micron (EPCB 10) carbon block filter (optional). This easy to install system can be used as a stand alone or in conjunction with other water treatment products.

UVB Series™
PURA's patented UVB Series™ is designed to provide disinfected water at a flow rate of 2 gallons per minute. In addition to disinfection, water is filtered through our .5 micron Extended Pass Carbon Block (EPCB) filter, which also removes Cryptosporidium and Giardia Lamblia Cysts. Our double and triple models provide you with additional filtration with sediment and activated carbon filters.his compact All-in-One system installs with ease and can be used anywhere that clean, clear, good tasting disinfected water is needed. It is ideal for point- of-use applications like: under the kitchen sink, office water coolers, water vending machines, boats, recreational vehicles,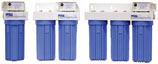 UV20™ Series
The PURA UV20™ Series is designed to provide disinfected water at a flow rate of 8 - 10 gallons per minute. This system is ideal for whole house water treatment. In addition to disinfection, the double and triple models provide filtration for the removal of sediment and chemical contaminants. This ultraviolet water treatment system makes a perfect companion to water softeners, distillers, reverse osmosis and ozone systems. The UV20 series has proven to be PURA's most popular product line and has created an industry standard in whole-house disinfection.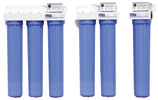 UV BigBoy™ Series
The UV BigBoy™ Series is the most versatile commercial ultraviolet disinfection system on the market today. This 15 to 60 GPM series is manufactured with versatility in mind, and is virtually unlimited in the possible filter configurations and manifold sequences. The series is designed with the same traditional style that Pura has made an industry standard - worldwide. One advantage of the UV BigBoy™ Series is the convenient manifold mounting rack. The rack can be used to configure up to four UV chambers in parallel or in series. This allows the user to achieve either a higher UV dosage or higher flow rate (up to 60 GPM). This mounting rack configuration provides easy access for cleaning and maintenance to the individual units without the need to shut down the entire water distribution line. The standard LED lamp monitor provides a visual verification the lamp is in operation. The UV BigBoy™ Series, with its capacity, versatility and cost, is the world's most flexible, complete water disinfection system in its class.